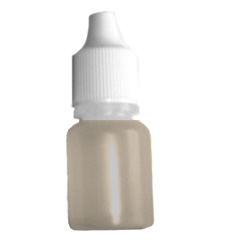 After a few days in the wilderness you may get a little stinky. Dr. Bronners soap is a good way to get clean and if necessary help clean your dishes. It's environment friendly and bio degradable.
We use this soap very sparingly. As we eat freeze-dried meals, we almost never need it to clean pots and pans as our pans mostly heat water and hold the post-cooked food – so we never get stubborn burned bits.
Remember – never use soap directly in a stream or lake, even if it's bio degradable. Take a pan of water to a location at least 50' away from the water source and wash there instead.
We put our soap in these tiny little 0.3oz dropper bottles from Gossamer Gear. A 2-pack of bottles is only $3. With these bottles we can use just one-drop at a time, which is more than enough.
People say you can clean your teeth with this too, but I've never tried.
Soap from REI for $3.75.
Total weight, filled: 0.4oz