South Puyallup River -> Mowich Lake
Total Distance: 21.7 mi
Date: 9/5/2009
Indoor Swimming Pool
I woke up around 6:30 to the feel of wet feet. It rained hard in the night, and the area we pitched the Tarp Tent was not a good one. A huge puddle of standing water formed at the bottom of the tent and because I have a 1st generation Cloudburst without the bathtub floor – it overflowed the ground sheet and came a few feet into the tent. With a lightweight down sleeping bag, this would have been unfortunate. Luckily for us – we were planning on being off the trail tonight – so it didn't matter too much.
Coffee In Bed
I got up and pulled our food sacks down in the pouring rain. As it turns out, it isn't so easy to hold and Umbrella and bear-pole stick at the same time with a heavy bag full of food on the end. The bag and the pole toppled over, my umbrella slipped out of my hand and the bag crashed down on it. Fortunately it didn't do any damage – but it was a good reminder of how fragile ultralight gear is, and how one mistake can lead to discomfort the rest of the trip.
Nigel was the hero of the morning, he got the stoves going and made everyone coffee in bed.
Three Believers and the Heathen
We packed up our soggy tents in the rain and broke camp around 8:30 am. The rain was pouring and the river was swollen now – very different than the tranquil river I sat by last night to clean my feet – it was a raging torrent.
On Nigels recent TGO crossing – Nigel took an umbrella with him (based on my advise), and found it utterly useless. The exposure and sideways rain of the Scottish highlands is a far cry from the wind-sheltered forests of the Pacific Northwest. So Nigel chose not to bring a brolly on the WT, deciding that his goretext suit worked well in Scotland, so why not repeat the same technique again? Tim, Dave and I all had brollies.
The climb up to Klapatche was long – and it was a cold morning. Knowing this, I left camp in a T-shirt and shorts – assuming I'd warm up a lot on the climb. It was a frustrating climb as a group – as Nigel tended to overheat in his raingear if he moved too fast – and so kept a moderate pace. The brolly brigade tended to burn up the climb to keep warm, but then get chilled waiting for Nigel to catch up. It was a good lesson to try and match techniques to keep a similar pace. On the rest of the hike sans rain – we had all been perfectly matched pace-wise.
Bear Encounter
As we were climbing up to Kaplatche we saw a big black bear about 300ft below us in a valley. We stopped to watch him and after a while he looked up directly at us. We waved our arms and made some noise and he bolted off up the other side of the valley. It was scary how fast he ran uphill.
A Quick Snack
At Kaplatche Park Camp – the weather turned foul. It was chilly cold, the rain poured and the wind howled. We hid behind a tree each for shelter and quickly munched down a snack. It was a bleak place today. As soon we we re-fueled, we hit the trail again.
As we crested the ridge there were signs of an old forest fire long ago. The visibility was very poor – maybe five or ten feet in front of us. Had we been up here in the snow, it would have been very difficult to navigate our way.
The rain pounded down as we made a big dropping decent into North Puyallup Camp. At camp there was a set of old walls and remains and a big bridge crossing over a strong creek. We stopped here for a short snack, to try and boost morale and get our energy back up.
As we started the very long decent to Golden Lakes, the vegetation sprung up and soaked our lower bodies. The hands-free brolly technique worked well with poles and kept us dry and comfortable. Although after so many hours of sustained rain, Nigel was getting tired of his sweaty Gore-Tex and longed for an Umbrella himself.
Golden Lakes
Finally we arrived at Golden Lakes and the Sunset Park Patrol Cabin . Tim and raced off and arrived a good fifteen minutes ahead of the rest of us and was hanging out by himself on the front porch. Tim swore he heard someone in the cabin washing dishes – but it appeared empty by the time we got there.
We wandered around camp to see the lake – but there wasn't much to see. It was eerie and visibility was very low. At first what appeared to be a cliff and a steep drop off – we realized was the actual shore of the lake. doh!
We sheltered on the porch of the cabin and unpacked our gear. Searching for drier socks for our soggy feet – we undertook some extensive foot care. I used Hydropel on the trip with great success. Even with soggy wrinkled feet – no signs at all of blistering. A far-cry from our Pasayten Trip last year where multiple blisters plagued me for most of the trip.
The builders tea got brewed again on the porch together with a bowl or two of oatmeal. It was around 2:30pm – but we still had a long 11 miles ahead of us.
While we sat at the Cabin – we lamented at the fact that we had passed no-one all day at this point. Surely there must be someone going the other way?
Too Close for Comfort
After a refreshing break, we hit the trail again. We started the long seven miles decent and got into a groove – racing down the hill at a considerable pace. I was a little ahead – maybe a hundreds yards or so from the others. As I turned a corner, I heard a rustling in the blueberry bushes just off to my right. I stopped dead in my tracks and was looking at a mamma bear and cub about 30ft up hill from me. They both were looking up and staring. Instinct took over and I shouted bear  and started clacking my poles together over my head. Before I knew it – the others had caught up and were also clacking poles and yelling at the top of their lungs. The baby bear started to run – fortunately uphill away from us, but mamma bear stood up to get a better look at us. A long twenty or thirty seconds of yelling and howling ensued, and finally – mamma turned and ran after her cub.
(Photo for ˜effect' – by Steve Oliver)
We took away a few lessons from the encounter:
1. It's always better to make a little noise hiking in bear territory than sneak up on one at speed (I knew this academically, but it's difference with experience). We spent the rest of the decent singing loudly to avoid another such encounter.
2. Ultra-light titanium hiking poles make a pathetically whimpy noise when clacked together.
3. It's probably always best to let Tim run on ahead.
North and South Mowich
The rain stopped half way down – which made hiking more pleasant, but the decent was brutal. Nigel's knee started giving him a lot of grief – so we took all the heavies out of his pack and spread them amongst the group so we could all keep an even pace still.
Eventually we hit the bottom of the trail and started the cross the Mowich Rivers. They were quite swollen – but the crossing logs were still in place, and we crossed over without incident.
It was around 5:30pm when we crossed by the Mowich River Campground. We ran into a group of 3 hikers that were heading up to Golden Lakes for the night. We warned them about the bear – but didn't envy their long climb – it would surely be dark by the time they reached camp.
Ready to be done – we started the final 3.2 mile push up to Mowich Lake. It was more of a climb than we expected – but we pushed on – munching down our abundance of snacks.
Permits Please
Finally at about 7pm, we arrived at the fork in the Trail where we turned off a week earlier – and then minutes later at the parking lot.
We ran into a ranger at the lot – who checked our permits for the first and only time on the entire trip.
As we hiked down the road back towards the car – we looked back to see the mountain peaking out between the trees with clear blue skies behind it.
Celebratory Beer
On the way home we stopped at the Rainier Bar & Grill in Enumclaw. Kudos to the delightful wait staff that graciously did not cover their noses with disgust every time they walked past our stinky table.
Tim ordered the world biggest burger. I think he was more afraid of this, than he was the momma bear. Washed down with several beers, it was a nice end to a spectacular trip.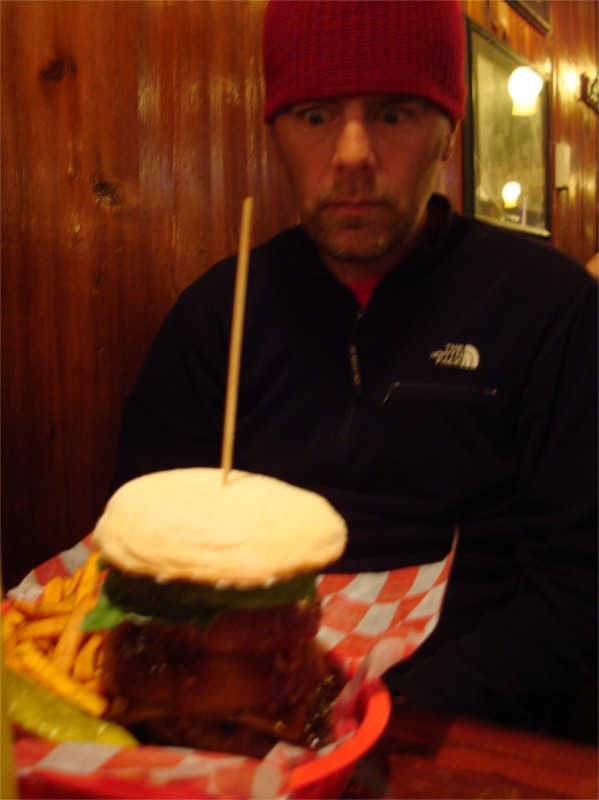 One Thing for Next Time?
Over beers – when asked what single item would you bring along next time, the votes came in at:
Nigel: Brolly
Tim: Immodium
Brett: Wool T-Shirt
Dave: Silnylon ass-less chaps
[Phew – I'm done. Only took me four months to write up this trip. Did I mention how much less time I have on my hands now that I'm a Dad? Is it summer yet?]