On Labor Day weekend 2006, Theresa and I hiked the Copper Ridge Loop in the North Cascades.
This is an amazing hike. Without a doubt the second best hike I have done in Washington, with the Enchantments taking first place.
We hiked 35 miles over 3 days with some serious elevation gain. Read on for the full scoop.
Trail Name: Copper Ridge Loop / North Cascades Loops
Distance: 34.3 miles
Elevation Gain: 10,800
Date of Trip: Sep 1-3, 2006
Google Map of Trailhead: View Map
Permit Info: An overnight permit is required and camp sites are reserved on a first-come first-served basis. Tip: plan to be at the Glacier Public Service center early! They open at 8am, so be first in line to ensure you camp spot. By 9am, the best ones are gone.
Getting There: From Seattle, I5N to HWY-20 (exit 230), go east on 20 for ~5 miles, then turn left on Township St and take HWY-9 north for 22 miles, turn right onto HWY-542 for 18 miles until Glacier. Stop and get your permit. Now continue E 13mi to bridge, before crossing river turn left on FR 32. Keep left at fork after 1.5 miles and continue on 32 to trailhead about 5.4 miles from highway.
Trail Map:
Don't forget to click on the thumbnails to see larger images!
Day 1:
On the first day we left the car park (3100') and took the gentle path along Ruth Creek towards the pass. Within the first 10 minutes of hiking, you are rewarded with incredible views and waterfall cascading down the mountain side. It's like something out of a Patagonia catalog.
After about a mile, the trail takes a few switch backs before starting a steepening ascent to Hannegan Camp. After the camp, the trail continues up a few more switch backs and into a more open meadow area of heather and wild flowers, making yet more switch backs until eventually reaching Hannegan Pass, 4mi (5100').
Hannegan Pass has great views and is an open meadow area. An excellent place to stop for lunch, and so we did. We munched on pre-made PB&J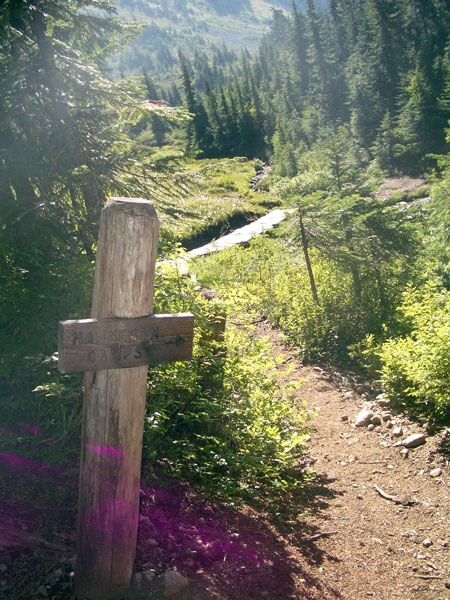 sandwiches and ate an apple. Excited not only for the delicious food, but also for the fact that we just ate almost a pound and a half of weight from our packs 🙂
There is a short (1 mile, +1000 ft) side-trip here to Hannegan Peak – with reportedly spectacular views. We did not take it but it sounds well worth it if you were just doing a day-hike to the pass.
After lunch, we started down a series of switch backs that leads into the Chilliwack River Valley where Boundary Camp is located.
Tip: As you hit the bottom of the basin, you cross over the dried up (in early September) headwaters of the Chilliwack. You should be able to find some water trickles here to fill up your water bottles. It saves you a trip into Boundary camp, and you'll want to fill up your water (and carry extra) as water is sparse once you get up on the ridge. The only source of water before Copper Lake is Egg Lake, and that's a 1-mile side trip that you might not want to take.
After filling our bottles, we wandered across the rocks towards Boundary Camp and discovered fresh mountain blueberries! They were everywhere! We squatted for 20 minutes and picked and ate and picked and ate, they were plump, juicy and delicious.
A hundred yards later and we are at Boundary Camp (5mi, 4400'). Boundary is a popular first stop for people packing heavy loads, so they can day-hike to the ridge.
With many of the camp sites in this area, there are either bear-poles, bear-boxes or big-trees to offer food protection from bears. Black bears are common in the area. We didn't see any ourselves on this trip, but heard plenty of stories from other hikers.
Here's a picture of the blueberries and a bear-pole at boundary camp:
At boundary camp, we took a left turn and started the slow long climb out of the basin up onto the ridge. There were many switchbacks, but as the climb progresses there were a series of ever-improving views. Eventually the trail pops out onto a beautiful ridge-top meadow and the gardens of Copper Ridge.
The ridge rolls up and down through meadows of delicate flowers and the views become overwhelming. They are quite breath taking at this point, and it felt like we had entered another world. There were peaks all around us: the Picket Range, Mt. Shuksan, Bear Mountain and in the distance are peaks of Canada.
After another mile or so of wandering with ups and downs we eventually reached Silesia Camp, (8.2mi, 5689'). Just beyond is a junction that drops down a half-mile to Egg Lake.
If you are thinking of camping in this area, go for Silesia. The views are outstanding from there. But they come with a price. There's no water, and you'll have to trek all the way down to egg lake to get your supplies for the evening. A small price to pay.
Here is a picture of Silesia. There are two camp spots, the one on the right is very exposed and windy and night – but has the killer views. The one on the left is more tucked into the trees. There is a shared bear-pole here also for easy hanging.
We hung out at Silesia for a while and rested our feet, and munched on "second breakfast". Or at least ate our other PB&J sandwich and cracked open a bag of trail mix.
We left Silesia and continued along the ridge passing egg lake.
Along the ridge we bumped into the ranger. She was very happy and friendly. She lives up on the ridge in the lookout cabin for several weeks at a time and patrols the campground on the ridge – Silesia, Egg Lake and Copper Lake making sure people have the correct permits as camp sites are very limited. She checked our permit and says "Doing the loop in just 3 days huh? … We'll it's certainly *doable*…" and glanced at us as if to say, "it's doable if you're insane and it's going to hurt a lot". Then she looked at our packs and was surprised how little we were carrying. "We'll be ok" – I assured her, "We're only carrying 15 pound packs". She seemed relieved and went back to smiling. "You'll love copper lake", she said, "It's very pretty down there."
We wandered the ridge for another mile or so, with sweeping views still all around us. Theresa got inspired by the meadows once in a while and broke out into choruses from the sound of music.
After a while, we caught a glimpse of the lookout cabin. It was up high on a peak that seemed like a long climb. This was the highest point of our trip. I love rangers huts. There's something cool to me about having a little cabin thing out in the middle of nowhere. I always wonder what it would be like to weather a big storm inside one – with thunder and lightening crashing all around you high in the mountains. With renewed vigor to check out the hut, we barreled up the 1000' ft climb in no time at all, arriving at Copper Mountain Lookout, (10.2mi, 6260').
As we arrived, we were greeted by a few marmots hanging out on the rocks, but other than their occasional whistle had complete solitude while we hung out for a good hour.
It's hard to describe how breath taking the views were from the high point. Sweeping 360 degree panoramic views of amazing rugged peaks in the cascade range. Snowy Mt. Baker out in all her glory and the icy ridges of Canada to the north. Below the deep forested valley, with the Chilliwack River rushing through it. Apart from the hut, no other man-made thing in site.
After hanging at the look out for a while, we started the decent into Copper Lake, (11.4mi, 6075').
It made for a long day, and the last mile seemed to take forever, however as the lake finally appeared the views were worth it.
We dropped in and setup camp. There is a bear-box for food storage at Copper Lake and I have to say, an outdoor bathroom with the best morning view around!
We setup the cloudburst tarpent in minutes and chilled out at the lake. We had grand plans to go swimming, but the water was cold and the sun was already behind the ridge, so freeze-dried beef stew it was!
I went down to the lake to fill up our water. We were experimenting with a new purification system on this trip. We junked our trusty old water filter in favour of Katadyn MicroPur tabs. They worked really well – it took seconds to fill the container with water and about 1/2 hr for the tabs to be effective. I found the time wasn't an issue at all. Heck with our old filter, it too about that long to pump two liters of water.
We were tucked up in bed by 8pm and ready for the next day.
Day 2:
We packed out and began a gentle stroll along the meadowy ridge for another 4 miles. The ridge had occasional ups and downs but on the most part was fairly flat. The views were still incredible, but slowly started to diminish and get hidden between groups of trees.
Eventually the trail crosses a boulder field and then a second boulder field with snow and ice remnants even in early September. Shortly after the boulder field, the trail starts down into a series of switch backs.
The 3.5 mile downhill was brutal on the knees, but it was hot out and nice to be under the shelter of the shady canopy. Eventually the sound of the Chilliwack River can be heard as we approached the last set of switch backs.
Just when you think you're down and about to ford the river, the trail follows the river bank and continues on with a little bushwhacking here and there for another half mile or more.
Finally the trail arrived at the first crossing of the Chilliwack River.
We were prepared to pull off our socks and shoes and ford the raging waters of the Chilliwack. Fortunately, a) it was more of a trickle and only two feet deep at best and b) 20 yards upstream we found a fallen tree and were able to cross with dry feet.
We stopped for lunch on the other side and rested our pounded toes from the downhill. We had cheese and crackers for lunch. I had pre-sealed the cheese in a vacuum packed bag, and so we dumped it in the Chilliwack for 20 minutes to get a nice chilled block of cheese before cracking the bag and chowing down.
We moved on and quickly arrived at the second crossing on the Chilliwack. This time it was much deeper, but we saw a very large tree in the distance upstream and were able to bushwhack up to it and use it to cross over. Crossing the river was amazing, we saw that the river had many wild salmon trying hard to swim upstream to return home so they could lay their eggs. The salmon were huge, bright red with green tails and hooked noses. We sat and watched them for a while in awe of seeing these creatures so far out in the wilderness.