I ordered a sample pack of Olympic Granola Bars and they arrived last week.
What's so special about these bars?
They weigh in at around 3oz each but pack a whopping 390 calories (Compare to a typical Powerbar at 2.4oz / 240cal) and oozing in a whopping 18grams of fat, and 9g of protein. (Compare with 3.5g fat, 6g protein for a Powerbar).
But aside from the energy qualities – they are made of natural, healthy ingredients.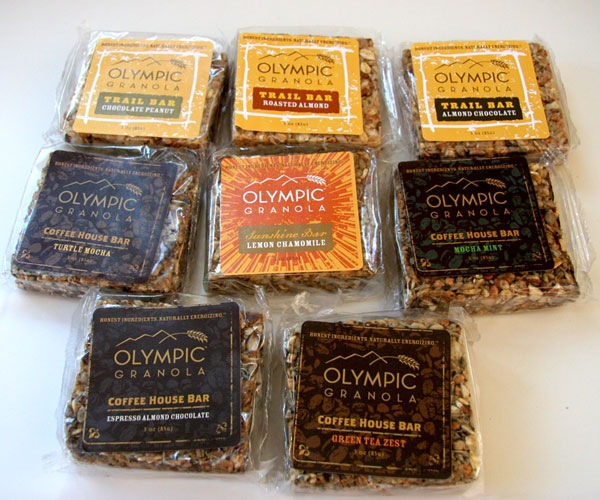 The sample pack comes with the following eight flavours:
Almost Chocolate
Roasted Almond
Chocolate Peanut
Mocha Mint
Espresso Almond Chocolate
Turtle Mocha
Green Tea Zest
Lemon Chamomile
And I've been slowly munching my way thought them to see what I think. I've tried the Roasted Almond, the Chocolate Peanut and the Espresso Almond Chocolate so far. They are all very very tasty, albeit a little too sweet for my tastes.
They would be great on the trail – but the heavy density of nuts conflicts with my usual gorp/trail mix for on the go snacks. On a longer trip I think I'd get maxed out on nuts easily – but I certainly would take a few days of these bars – perhaps to compliment a cheese/salami day.