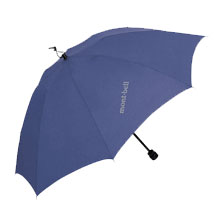 Ah yes… the umbrella. Now you think I'm completely insane.
This was one of the bigger leaps for me into Ultralight. Now that I've weathered a few rain storms with my brolly, I'm utterly sold. It weighs only 5.6 oz., yet is one of the most versatile pieces of rain gear I own. Down pours bounce off the brolly as you hike along. Cooking in the rain and setting up camp is easy with the shelter of an umbrella.
You have to be confident enough to stave off the weird looks you'll get on the trail, but the rewards are worth it.
The one downside for me, is I have to stow my poles when using the umbrella. Small price to pay.
Available from Back Country Gear for $35. Sell your fancy $400 gortex jacket on ebay.